Sponsored by Shabestar-IA University, Iran

Editor-in-Chief: Dr. Habib Aghdam Shahryar, PhD, Associate Professor of Animal Nutrition; Director of Animal Science Dept., Vice-Chancellor of Shabestar-I.A. University, IRAN. View full editorial board

Journal metrics: h5-index=9; h5-median=12
» Indexed/covered by NLM/PubMed, CABI, CAS, AGRICOLA, DOAJ, Ulrich's™, GALE, ICV), Worldcat, EZB, TOCs ...details

» Open access full-text articles is available beginning with Volume 1 Issue 1. Full texts and XML of articles in DOAJ.

» This journal is in full compliance with BOAI.
» Copyright & Publishing Rights Policy ...details
» High visibility of articles over the internet.

» Publisher Item Identifier ...details
» This journal encourage the academic institutions in low-income countries to publish high quality scientific results, free of charges... view Review/Decisions/Processing/Policy
Board Member Certificate
:

OJAFR active members were Dr. Addis Getu, Dr. Hamid Mohammadzadeh

...full information
Editorial contact: editors [at] ojafr.ir



Partner Journals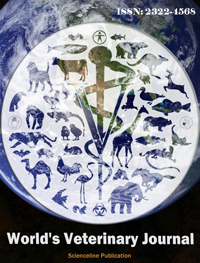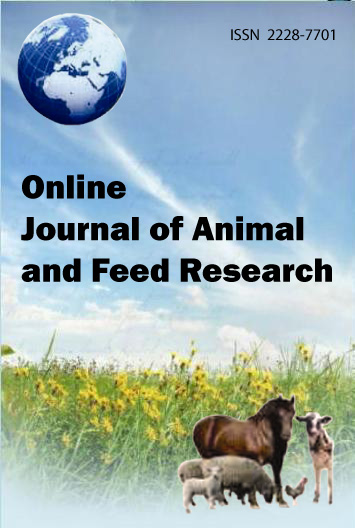 O
nline

J

ournal of

A

nimal and

F

eed

R

esearch
ISSN: 2228-7701

Current Issue: 2019, Vol: 9, No: 1 (January)

Publisher: SCIENCELINE

Online Journal of Animal and Feed Research is an international peer-reviewed journal, publishes the full text of original scientific researches, reviews, and case reports in all fields of animal and feed sciences, bimonthly and freely on the ınternet ...view full aims and scope
TABLE OF CONTENTS

---
Value chain and evaluation of milk quality in selected districts around Addis Ababa, Ethiopia.

Etifu Meranga M and Abu Kufa M.

Online J. Anim. Feed Res., 9(1): 01-12, 2019; pii: S222877011900001-9
---
Impact of body condition, milk yield and blood metabolite concentrations on the resumption of ovarian activity in cattle.
Obese FY and P Tecku.

Online J. Anim. Feed Res., 9(1): 13-19, 2019; pii: S222877011900002-9
---
Diagnosis of subclinical endometritis during postpartum period on subsequent pregnancy in small, medium and large scale dairy farms in and around Gondar, Ethiopia.

Moges N.

Online J. Anim. Feed Res., 9(1): 20-25, 2019; pii: S222877011900003-9
---
Effect of hatch window upon intestinal development, chick quality, post hatch performance according to Ross-308 broiler breeder age.
Yousaf A, Rajput N, Memon A, Naz Jagirani G, Shahnawaz R, RajparS, Sarwar M and Habib F.

Online J. Anim. Feed Res., 9(1): 26-32, 2019; pii: S222877011800004-9
---
Effect of age on certain urine parameters of young camels (Camelus dromedarius).
Elkhair NM.

Online J. Anim. Feed Res., 9(1): 33-37, 2019; pii: S222877011800005-9
---
The influence of feed form on broiler production and gastrointestinal tract development.
Kuleile N and Molapo S.

Online J. Anim. Feed Res., 9(1): 38-43, 2019; pii: S222877011800006-9

This work is licensed under a Creative Commons Attribution-NonCommercial 4.0 International License.