Publisher Item Identifier

A Publisher Item Identifier (PII) is a standard identifier number system which identifies a published document. It was created in 1996, agreed and developed by the American Chemical Society, the American Institute of Physics, the American Physical Society, Elsevier Science, and the IEEE. Although, PII has currently been included in Digital Object Identifier (DOI)® system (as a syntaxe in the DOI suffix) for Crossref publishers using De facto identifier method, but many of publishers like AMS, still rely on original, facil and free of charge method of creating the Article Unique Identifiers like PII.


Digital Object Identifier (DOI): A name (not a location) for an entity on digital networks. DOI names are used to provide current information, including where they (or information about them) can be found on the Internet.
Note: Scientific international journals of countries like Cuba, Iran, North Korea, Belarus, Liberia, Sudan and etc. that are sanctioned by the USA, are not eligible to registration for DOI and Crossref.
Publisher Item Identifier (PII): Alphanumeric string of characters that uniquely identifies the article and can be used for future cataloging, searching, and electronic retrieval (Free of Charge). An article explaining the PII numbering system can be found on: http://en.wikipedia.org/wiki/Publisher_Item_Identifier.
---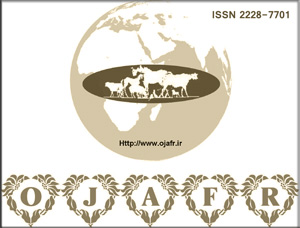 Published Article

Identifiers
2020 (Volume 10)


Article 01: S222877012000001-10
Article 02: S222877012000002-10
Article 03: S222877012000003-10
Article 04: S222877012000004-10
Article 05: S222877012000005-10
Article 06: S222877012000006-10
Article 07: S222877012000007-10
Article 08: S222877012000008-10
Article 09: S222877012000009-10
Article 10: S222877012000010-10
Article 11: S222877012000011-10
Article 12: S222877012000012-10
Article 13: S222877012000013-10
Article 14: S222877012000014-10
Article 15: S222877012000015-10
Article 16: S222877012000016-10
Article 17: S222877012000017-10
Article 18: S222877012000018-10
Article 19: S222877012000019-10
Article 20: S222877012000020-10
Article 21: S222877012000021-10
Article 22: S222877012000022-10
Article 23: S222877012000023-10
Article 24: S222877012000024-10
Article 25: S222877012000025-10
Article 26: S222877012000026-10
Article 27: S222877012000027-10
Article 28: S222877012000028-10
Article 29: S222877012000029-10
Article 30: S222877012000030-10
Article 31: S222877012000031-10
Article 32: S222877012000032-10
Article 33: S222877012000033-10
Article 34: S222877012000034-10
Article 35: S222877012000035-10
Article 36: S222877012000036-10
Article 37: S222877012000037-10
Article 38: S222877012000038-10
Article 39: S222877012000039-10
Article 40: S222877012000040-10
Article 41: S222877012000041-10
Article 42: S222877012000042-10
Article 43: S222877012000043-10


2021 (Volume 11)


Article 01: S222877012100001-11
Article 02: S222877012100002-11
Article 03: S222877012100003-11
Article 04: S222877012100004-11
Article 05: S222877012100005-11
Article 06: S222877012100006-11
Article 07: S222877012100007-11
Article 08: S222877012100008-11
Article 09: S222877012100009-11
Article 10: S222877012100010-11
Article 11: S222877012100011-11
Article 12: S222877012100012-11
Article 13: S222877012100013-11
Article 14: S222877012100014-11
Article 15: S222877012100015-11
Article 16: S222877012100016-11
Article 17: S222877012100017-11
Article 18: S222877012100018-11
Article 19: S222877012100019-11
Article 20: S222877012100020-11
Article 21: S222877012100021-11
Article 22: S222877012100022-11
Article 23: S222877012100023-11
Article 24: S222877012100024-11
Article 25: S222877012100025-11
Article 26: S222877012100026-11
Article 27: S222877012100027-11
Article 28: S222877012100028-11
Article 29: S222877012100029-11
Article 30: S222877012100030-11
Article 31: S222877012100031-11
Article 32: S222877012100032-11
Article 33: S222877012100033-11


Article 34: S222877012000034-11




Article 35: S222877012000035-10




Article 36: S222877012000036-10




Article 37: S222877012000037-10




Article 38: S222877012000038-10




Article 39: S222877012000039-10


Article 40: S222877012000040-10
Article 41: S222877012000041-10
Article 42: S222877012000042-10
Article 43: S222877012000043-10

2022 (Volume 12)


Article 01: S222877012200001-12
Article 02: S222877012200002-12
Article 03: S222877012200003-12
Article 04: S222877012200004-12
Article 05: S222877012200005-12
Article 06: S222877012200006-12
Article 07: S222877012200007-12


Article 08: S222877012100008-11




Article 09: S222877012100009-11




Article 10: S222877012100010-11




Article 11: S222877012100011-11




Article 12: S222877012100012-11




Article 13: S222877012100013-11




Article 14: S222877012100014-11




Article 15: S222877012100015-11




Article 16: S222877012100016-11




Article 17: S222877012100017-11




Article 18: S222877012100018-11




Article 19: S222877012100019-11




Article 20: S222877012100020-11




Article 21: S222877012100021-11




Article 22: S222877012100022-11




Article 23: S222877012100023-11




Article 24: S222877012100024-11




Article 25: S222877012100025-11




Article 26: S222877012100026-11




Article 27: S222877012100027-11




Article 28: S222877012100028-11




Article 29: S222877012100029-11




Article 30: S222877012100030-11




Article 31: S222877012100031-11




Article 32: S222877012100032-11




Article 33: S222877012100033-11


Article 34: S222877012000034-11
Article 35: S222877012000035-10
Article 36: S222877012000036-10
Article 37: S222877012000037-10
Article 38: S222877012000038-10
Article 39: S222877012000039-10
Article 40: S222877012000040-10
Article 41: S222877012000041-10
Article 42: S222877012000042-10
Article 43: S222877012000043-10
2017 (Volume 7)


Article 01: S222877011700001-7
Article 02: S222877011700002-7


Article 03: S222877011700003-7


Article 04: S222877011700004-7


Article 05: S222877011700005-7


Article 06: S222877011700006-7
Article 07: S222877011700007-7
Article 08: S222877011700008-7
Article 09: S222877011700009-7
Article 10: S222877011700010-7
Article 11: S222877011700011-7


Article 12: S222877011700012-7


Article 13: S222877011700013-7
Article 14: S222877011700014-7
Article 15: S222877011700015-7
Article 16: S222877011700016-7
Article 17: S222877011700017-7
Article 18: S222877011700018-7
Article 19: S222877011700019-7
Article 20: S222877011700020-7
Article 21: S222877011700021-7
Article 22: S222877011700022-7
Article 23: S222877011700023-7

2018 (Volume 8)




Article 01: S222877011800001-8


Article 02: S222877011800002-8
Article 03: S222877011800003-8
Article 04: S222877011800004-8
Article 05: S222877011800005-8
Article 06: S222877011800006-8
Article 07: S222877011800007-8
Article 08: S222877011800008-8
Article 09: S222877011800009-8
Article 10: S222877011800010-8
Article 11: S222877011800011-8
Article 12: S222877011800012-8
Article 13: S222877011800013-8


Article 14: S222877011800014-8


Article 15: S222877011800015-8
Article 16: S222877011800016-8
Article 17: S222877011800017-8
Article 18: S222877011800018-8
Article 19: S222877011800019-8
Article 20: S222877011800020-8
Article 21: S222877011800021-8
Article 22: S222877011800022-8
Article 23: S222877011800023-8
Article 24: S222877011800024-8


Article 25: S222877011800025-8


Article 26: S222877011800026-8

2019 (Volume 9)


Article 01: S222877011900001-9


Article 02: S222877011900002-9


Article 03: S222877011900003-9
Article 04: S222877011900004-9
Article 05: S222877011900005-9


Article 06: S222877011900006-9


Article 07: S222877011900007-9
Article 08: S222877011900008-9
Article 09: S222877011900009-9
Article 10: S222877011900010-9
Article 11: S222877011900011-9
Article 12: S222877011900012-9
Article 13: S222877011900013-9
Article 14: S222877011900014-9
Article 15: S222877011900015-9
Article 16: S222877011900016-9
Article 17: S222877011900017-9
Article 18: S222877011900018-9
Article 19: S222877011900019-9
Article 20: S222877011900020-9
Article 21: S222877011900021-9


Article 22: S222877011900022-9


Article 23: S222877011900023-9
Article 24: S222877011900024-9
Article 25: S222877011900025-9
2014 (Volume 4)


Article 01: S222877011400001-4
Article 02: S222877011400002-4
Article 03: S222877011400003-4
Article 04: S222877011400004-4
Article 05: S222877011400005-4
Article 06: S222877011400006-4
Article 07: S222877011400007-4
Article 08: S222877011400008-4
Article 09: S222877011400009-4
Article 10: S222877011400010-4
Article 11: S222877011400011-4
Article 12: S222877011400012-4
Article 13: S222877011400013-4
Article 14: S222877011400014-4
Article 15: S222877011400015-4
Article 16: S222877011400016-4
Article 17: S222877011400017-4
Article 18: S222877011400018-4
Article 19: S222877011400019-4
Article 20: S222877011400020-4
Article 21: S222877011400021-4


Article 22: S222877011400022-4


Article 23: S222877011400023-4
Article 24: S222877011400024-4


Article 25: S222877011400025-4


Article 26: S222877011400026-4
Article 27: S222877011400027-4


Article 28: S222877011400028-4

2015 (Volume 5)


Article 01: S222877011500001-5
Article 02: S222877011500002-5
Article 03: S222877011500003-5
Article 04: S222877011500004-5
Article 05: S222877011500005-5
Article 06: S222877011500006-5
Article 07: S222877011500007-5


Article 08: S222877011500008-5


Article 09: S222877011500009-5
Article 10: S222877011500010-5


Article 11: S222877011500011-5


Article 12: S222877011500012-5


Article 13: S222877011500013-5


Article 14: S222877011500014-5
Article 15: S222877011500015-5
Article 16: S222877011500016-5
Article 17: S222877011500017-5
Article 18: S222877011500018-5
Article 19: S222877011500019-5


Article 20: S222877011500020-5


Article 21: S222877011500021-5
Article 22: S222877011500022-5
Article 23: S222877011500023-5


Article 24: S222877011500024-5


Article 25: S222877011500025-5


Article 26: S222877011500026-5


Article 27: S222877011500027-5
Article 28: S222877011500028-5
Article 29: S222877011500029-5
Article 30: S222877011500030-5

2016 (Volume 6)


Article 01: S222877011600001-6
Article 02: S222877011600002-6
Article 03: S222877011600003-6
Article 04: S222877011600004-6
Article 05: S222877011600005-6
Article 06: S222877011600006-6
Article 07: S222877011600007-6
Article 08: S222877011600008-6
Article 09: S222877011600009-6
Article 10: S222877011600010-6
Article 11: S222877011600011-6
Article 12: S222877011600012-6
Article 13: S222877011600013-6
Article 14: S222877011600014-6
Article 15: S222877011600015-6
Article 16: S222877011600016-6
Article 17: S222877011600017-6
Article 18: S222877011600018-6


Article 09: S222877011600009-6




Article 10: S222877011600010-6




Article 11: S222877011600011-6




Article 12: S222877011600012-6




Article 13: S222877011600013-6




Article 14: S222877011600014-6




Article 15: S222877011600015-6




Article 16: S222877011600016-6




Article 17: S222877011600017-6




Article 18: S222877011600018-6
2011 (Volume 1)


Article 01: S222877011100001-1
Article 02: S222877011100002-1
Article 03: S222877011100003-1
Article 04: S222877011100004-1
Article 05: S222877011100005-1
Article 06: S222877011100006-1
Article 07: S222877011100007-1
Article 08: S222877011100008-1
Article 09: S222877011100009-1
Article 10: S222877011100010-1
Article 11: S222877011100011-1
Article 12: S222877011100012-1
Article 13: S222877011100013-1
Article 14: S222877011100014-1
Article 15: S222877011100015-1
Article 16: S222877011100016-1
Article 17: S222877011100017-1
Article 18: S222877011100018-1
Article 19: S222877011100019-1
Article 20: S222877011100020-1
Article 21: S222877011100021-1
Article 22: S222877011100022-1
Article 23: S222877011100023-1
Article 24: S222877011100024-1
Article 25: S222877011100025-1
Article 26: S222877011100026-1
Article 27: S222877011100027-1
Article 28: S222877011100028-1
Article 29: S222877011100029-1
Article 30: S222877011100030-1
Article 31: S222877011100031-1
Article 32: S222877011100032-1
Article 33: S222877011100033-1
Article 34: S222877011100034-1
Article 35: S222877011100035-1
Article 36: S222877011100036-1
Article 37: S222877011100037-1
Article 38: S222877011100038-1
Article 39: S222877011100039-1
Article 40: S222877011100040-1
Article 41: S222877011100041-1
Article 42: S222877011100042-1
Article 43: S222877011100043-1
Article 44: S222877011100044-1
Article 45: S222877011100045-1
Article 46: S222877011100046-1
Article 47: S222877011100047-1
Article 48: S222877011100048-1
Article 49: S222877011100049-1
Article 50: S222877011100050-1
Article 51: S222877011100051-1
Article 52: S222877011100052-1
Article 53: S222877011100053-1
Article 54: S222877011100054-1
Article 55: S222877011100055-1
Article 56: S222877011100056-1
Article 57: S222877011100057-1
Article 58: S222877011100058-1
Article 59: S222877011100059-1
Article 60: S222877011100060-1


2012 (Volume 2)


Article 01: S222877011200001-2
Article 02: S222877011200002-2
Article 03: S222877011200003-2
Article 04: S222877011200004-2
Article 05: S222877011200005-2
Article 06: S222877011200006-2
Article 07: S222877011200007-2
Article 08: S222877011200008-2
Article 09: S222877011200009-2
Article 10: S222877011200010-2
Article 11: S222877011200011-2
Article 12: S222877011200012-2
Article 13: S222877011200013-2
Article 14: S222877011200014-2
Article 15: S222877011200015-2
Article 16: S222877011200016-2
Article 17: S222877011200017-2
Article 18: S222877011200018-2
Article 19: S222877011200019-2
Article 20: S222877011200020-2
Article 21: S222877011200021-2
Article 22: S222877011200022-2
Article 23: S222877011200023-2
Article 24: S222877011200024-2
Article 25: S222877011200025-2
Article 26: S222877011200026-2
Article 27: S222877011200027-2
Article 28: S222877011200028-2
Article 29: S222877011200029-2
Article 30: S222877011200030-2
Article 31: S222877011200031-2
Article 32: S222877011200032-2
Article 33: S222877011200033-2
Article 34: S222877011200034-2
Article 35: S222877011200035-2
Article 36: S222877011200036-2
Article 37: S222877011200037-2
Article 38: S222877011200038-2
Article 39: S222877011200039-2
Article 40: S222877011200040-2
Article 41: S222877011200041-2
Article 42: S222877011200042-2
Article 43: S222877011200043-2
Article 44: S222877011200044-2
Article 45: S222877011200045-2
Article 46: S222877011200046-2
Article 47: S222877011200047-2
Article 48: S222877011200048-2
Article 49: S222877011200049-2
Article 50: S222877011200050-2
Article 51: S222877011200051-2
Article 52: S222877011200052-2
Article 53: S222877011200053-2
Article 54: S222877011200054-2
Article 55: S222877011200055-2
Article 56: S222877011200056-2
Article 57: S222877011200057-2
Article 58: S222877011200058-2
Article 59: S222877011200059-2
Article 60: S222877011200060-2
Article 61: S222877011200061-2
Article 62: S222877011200062-2
Article 63: S222877011200063-2
Article 64: S222877011200064-2
Article 65: S222877011200065-2
Article 66: S222877011200066-2
Article 67: S222877011200067-2
Article 68: S222877011200068-2
Article 69: S222877011200069-2
Article 70: S222877011200070-2
Article 71: S222877011200071-2
Article 72: S222877011200072-2
Article 73: S222877011200073-2
Article 74: S222877011200074-2
Article 75: S222877011200075-2
Article 76: S222877011200076-2
Article 77: S222877011200077-2
Article 78: S222877011200078-2
Article 79: S222877011200079-2
Article 80: S222877011200080-2
Article 81: S222877011200081-2
Article 82: S222877011200082-2
Article 83: S222877011200083-2
Article 84: S222877011200084-2
Article 85: S222877011200085-2
Article 86: S222877011200086-2
Article 87: S222877011200087-2
Article 88: S222877011200088-2
Article 89: S222877011200089-2
Article 90: S222877011200090-2
Article 91: S222877011200091-2
Article 92: S222877011200092-2


2013 (Volume 3)


Article 01: S222877011300001-3
Article 02: S222877011300002-3
Article 03: S222877011300003-3
Article 04: S222877011300004-3
Article 05: S222877011300005-3
Article 06: S222877011300006-3
Article 07: S222877011300007-3
Article 08: S222877011300008-3
Article 09: S222877011300009-3
Article 10: S222877011300010-3
Article 11: S222877011300011-3
Article 12: S222877011300012-3
Article 13: S222877011300013-3
Article 14: S222877011300014-3
Article 15: S222877011300015-3
Article 16: S222877011300016-3
Article 17: S222877011300017-3
Article 18: S222877011300018-3
Article 19: S222877011300019-3
Article 20: S222877011300020-3
Article 21: S222877011300021-3
Article 22: S222877011300022-3
Article 23: S222877011300023-3
Article 24: S222877011300024-3
Article 25: S222877011300025-3
Article 26: S222877011300026-3
Article 27: S222877011300027-3
Article 28: S222877011300028-3
Article 29: S222877011300029-3
Article 30: S222877011300030-3
Article 31: S222877011300031-3
Article 32: S222877011300032-3
Article 33: S222877011300033-3
Article 34: S222877011300034-3
Article 35: S222877011300035-3
Article 36: S222877011300036-3
Article 37: S222877011300037-3
Article 38: S222877011300038-3
Article 39: S222877011300039-3
Article 40: S222877011300040-3
Article 41: S222877011300041-3
Article 42: S222877011300042-3
Article 43: S222877011300043-3
Article 44: S222877011300044-3
Article 45: S222877011300045-3
Article 46: S222877011300046-3



---
---